Every office environment is different. Selection of office furniture not only has to take into account the available floor space and layout, including considerations such as access, lighting, power and ingress/egress, but it must also factor in the business function, culture and corporate style of the occupier, not to mention the influence of budgets.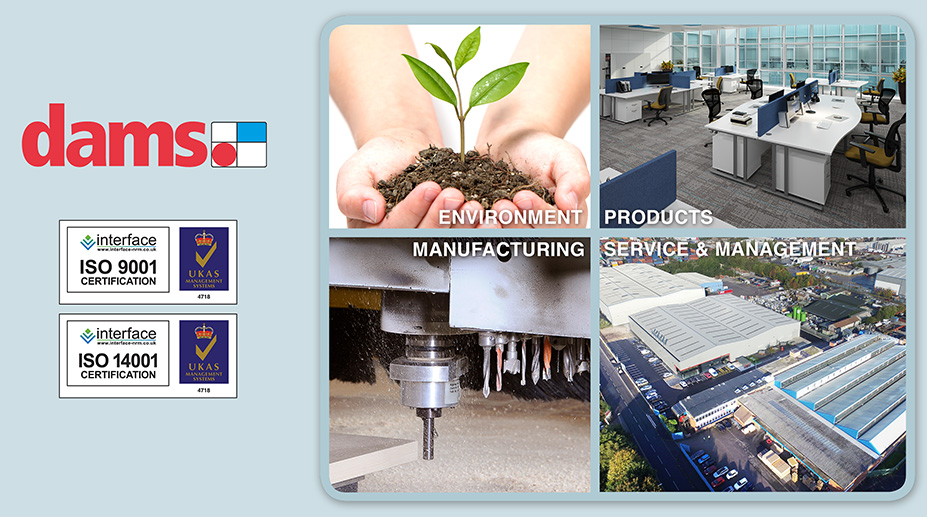 With so many factors involved, it's not surprising that end users are looking for suppliers that can offer them increased choice, enabling them to specify their office to suit their requirements. And genuine choice not only means having a variety of products, including desking, seating, storage and screens available, but also demands a variety of ranges and multiple options for finishes, upholstery and configuration to deliver a truly tailored approach.
And then, of course, there is the question of whether the end user already knows what they want … or if they will just know it when they see it! By providing a greater choice from a single source supplier, it's much easier to answer unknown requirements, meet the brief within budget or upsell to a more premium offering.
Buy cheap, buy twice
Everyone loves a bargain. But some cheap deals can leave the customer with much less than they'd bargained for. That's certainly the case when it comes to desking, an item of office furniture that comes in for plenty of wear and tear and will often be the workstation of multiple users over the course of its lifetime.
And yet, customers will often opt for the cheaper alternative to a proven UK brand simply to save a few pounds on the unit price. With no accountable quality management system in place and poor traceability in terms of design, materials and manufacture, that decision to save some money could come at a high price.
The problem for some suppliers is that import costs, exchange rates and overseas production lead times can make it difficult to manage a broad portfolio of office furniture products. As a result, some are reducing the number of SKU (stock keeping units) on their product list in an effort to concentrate on the most popular and profitable lines so that service and prices don't suffer as a result of supply issues.
The question is, does reducing the number of office furniture products available really improve service levels or does it simply limit choice?
Manufacturer and wholesaler
Dams firmly believes that maximising choice and quality is an essential part of delivering excellent service. That's why the company has invested significantly in enhancing its UK manufacturing facilities, increasing its stock holding capacity and improving its data management capabilities to ensure it can now list over 6,500 stocked products.
By manufacturing at its headquarters on Merseyside, Dams manage production schedules in real time, responding quickly to spikes in demand to ensure that the most popular items are always available from stock. And by investing in its own new upholstery workshop, Dams can also offer faster lead times on customised upholstered items with the customer's choice of fabric. In-house manufacturing also ensures that each item is quality-assured and completely traceable, providing the end user with total peace of mind.
Dams are uniquely placed in the office furniture sector by combining their manufacturing capabilities with an established reputation as a wholesaler, increasing the level of choice from a single source supplier still further.
Quality Control
Dams' manufacturing capabilities mean that quality management is consistent and accountable throughout the product design, manufacture and delivery process. The company has recently been awarded both ISO 9001 and ISO 14001 certifications, which are internationally recognised standards that ensure their products and services meet the needs of customers through an effective quality management system, with workflows designed to include quality checks throughout the product development, production and delivery practices, ensuring consistently high standards.
The ISO 14001 accreditation ensures that Dams' UK manufacturing and wholesaling operations meet or exceed the latest standard requirements, helping supply environmentally sound solutions, reducing their carbon footprint, better manage waste and air emissions, and reduce energy and water consumption, ensuring all company operations are at the forefront of environmental performance in the office furniture industry.
Those standards are also independently verified by FIRA (Furniture Industry Research Association), with strict UKAS-accredited testing carried out across the Dams product range to provide additional peace of mind for customers that their furniture will not only offer a robust solution following purchase, but will also stand the test of time.
At your service
Whether people are ordering dinner, getting a haircut or buying a new car - service matters! If it's bad, no matter how good the product may be, the customer service is ruined and people are unlikely to return. If it's good, then they will want to go back for more of the same. That simple 'good service = repeat business' equation is just as true for commercial transactions as it is on the high street. For dealers, who depend on their supplier's service in order to fulfil their own service commitment to customers, it is absolutely critical.
High quality products are vital, and customers will only return with repeat business or refer you to their peers if the product is right. A good customer experience depends on great service, however, so selecting supply chain partners that will offer the choice and reliability you need is also an important part of growing your business.
For those with supply chain challenges, reducing the number of office products available is a short cut to reducing lead time issues. For Dams, a UK based and adaptable business, enhancing choice goes hand in hand with providing better customer service and sales opportunities. Replacing office furniture is a costly and inconvenient process; end users do not want to do it often, especially if they have to invest in new items because they sacrificed quality or traceability for cost the first time around.